A customisation shop in Florida has got its hands on a Hummer electric car and has created a (possibly) bulletproof and weatherproof 'Strikeforce'.
Some cars are so eagerly awaited that people happily wait years for them to appear, and when they finally show up on the roads and at dealers, they can make even more noise. Sometimes the secondary market can get hooked on these specimens and have a bit of a ride with them. Few cars have made as much noise coming to market in the last year or two as the new GMC Hummer EV. Somewhat surprisingly, however, the aftermarket doesn't seem to have shown much interest in the new Hummer. Unless you have very deep pockets and live in Florida. SoFlo Jeeps got hold of the Edition 1 version of the electric behemoth car and made it right at home on the beach with extreme customisation.
It's probably the craziest electric Hummer car on Earth
This has to do with modifications, the most obvious of which is the paint job. In fact, the paint isn't even real paint, but an epoxy coating with the addition of 'Army Green' Kevlar fibre for the body and black on the trim details. Yes, it's the same material used to make body armour. SoFlo wouldn't comment on whether the car is technically bulletproof , but said that "the coating is ideal for repelling any off-road projectiles". So maybe not taking a machine gun or grenade launcher with it, which is worth saying, given that it hails from Florida.
To make the Hummer EV feel at home on the beaches or in the Everglades, SoFlo has also added some off-road modifications, including a four-inch lift kit and massive 38-inch Milestar Patagonia M/T tyres with 20-inch XD gilt aluminium tyres. If you're worried about the factory's immense capabilities diminishing, don't worry. It can still walk like a crab and accelerate from 0 to 60 in about 3 seconds when Watts To Freedom (WTF) mode is on thanks to about 1000 horsepower.
The SoFlo GMC Hummer EV electric car is ridiculous and amazing in equal measure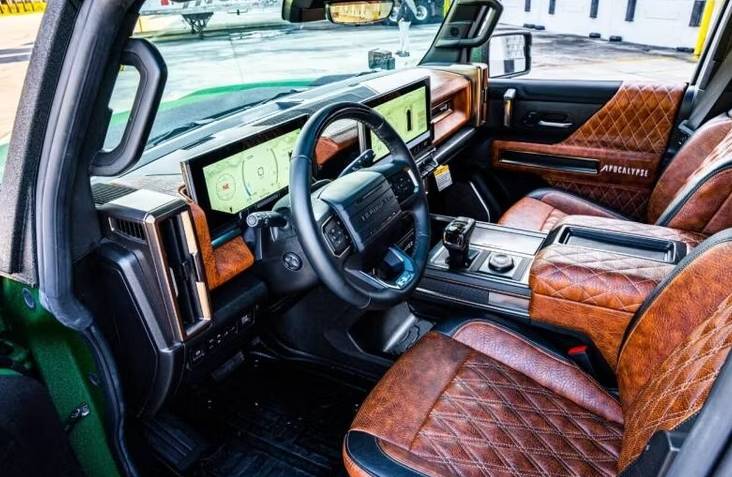 SoFlo has even given its Hummer electric car a new name, Strikeforce, which is childish and fantastic in equal measure. That assessment can be applied to the Strikeforce's interior as well. The seats, headrests, dashboard, door panels, centre console and armrests are covered in brown leather with diamond stitching and black inlays. "Marine grade" refers to the fact that this material is typically used on boats or other water-oriented vehicles.
Florida can have crazy weather, from scorching sun to hurricanes, and traditional leather doesn't like those conditions. Using weatherproof material means you can get your seats wet or take your shirts off for long periods of time and not have to worry about substandard seating. Although we can't help but feel that the interior would be more authentic if the seat material were styled in crocodile or snakeskin.
SoFlo is already planning future GMC Hummer builds and we will see what they will be called and how wild they will be. However, future reincarnations will reportedly feature windscreen protection, a sloping rear bed cover and a push bar over the grille, not to mention the likely bumper modifications. We could also see a 6×6 version created by SoFlo's subsidiary Apocolypse, which produces six-wheeled versions of the Jeep Wrangler, Gladiator, Ram trucks and Ford Broncos. Who knows how much they'll cost, but judging by the fact that the Strikeforce starts at $219,000, we'd guess that would be absolutely absurd.