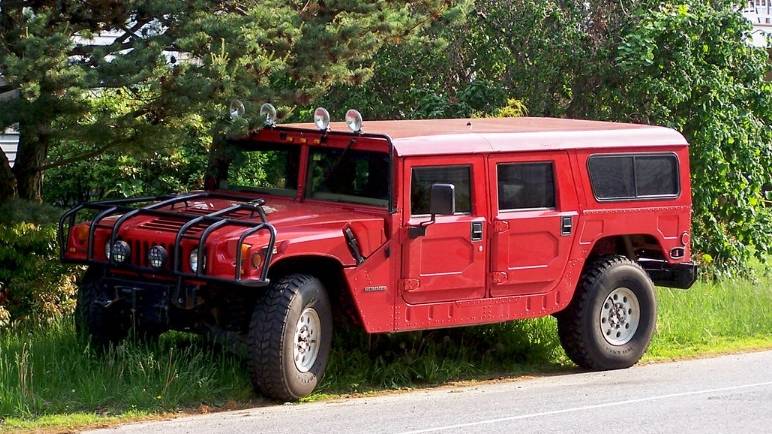 The AM General Hummer: A Vintage 4×4 with Enduring Impression
Since its introduction in 1992, the Hummer brand has held various meanings for different consumers. However, its roots trace back to the military M998 HMMWV (High Mobility Multipurpose Wheeled Vehicle) launched in 1983. Initially used by the military, it made its way into the private SUV market after its second military deployment during the Gulf War, following a brief presence in Panama in 1989.
In 1992, AM General started targeting regular consumers, thanks in large part to Arnold Schwarzenegger's affinity for the rugged HMMWVs. However, the trucks found popularity not only among ordinary buyers but also small business owners, wealthy ranchers, construction company executives, and even villains portrayed in 1990s movies like Broken Arrow (1995), featuring John Travolta and Christian Slater.
Following the acquisition of the brand name from AM General in 1999, General Motors ushered in the second generation of the Hummer brand. This era saw the introduction of the boxy H2 SUV and SUT, as well as the more practical H3, based on the Canyon/Colorado platform. Meanwhile, the original civilian model from 1992, known as the Hummer H1, remained in production until 2007 alongside the newer models.
During this exhilarating period, the H2 experienced tremendous sales success while also becoming a symbol of excessive consumption and a representation of suburban power-play. It embodied a time of conspicuous consumption and one-upmanship, which may be observed with a mix of admiration and amusement by future historians, but already feels noticeably outdated.
We find ourselves in what can be considered the third generation of the civilian Hummer brand, where the focus has shifted towards environmental sustainability. The current models have become more powerful while also prioritizing reduced noise levels, increased weight, and higher price points. These changes have resulted in a price tag that could (and still can) secure a modest two-bedroom house in the Midwest.
Considering these three distinct eras, encountering a first-generation civilian Hummer station wagon, originally introduced as a massive SUV for consumers, already evokes a sense of nostalgia. It allows us to revisit the features and attributes that made it an intriguing choice at the time. Fuel efficiency ratings and acceleration performance didn't significantly influence buyers' decisions; they were primarily motivated by the desire to make a cool and stylish statement with their purchase.
For those who are not familiar with the original model, the specifications of the original Hummer station wagon may come as a surprise. It featured a 6.2-liter fuel-injected diesel engine, delivering a modest 150 horsepower and 210 lb-ft of torque. Paired with a three-speed automatic transmission, it achieved a fuel efficiency of around 13 to 14 miles per gallon.
Acceleration from zero to 60 mph took a considerable 19.5 seconds in the original Hummer station wagon, assuming you pushed the accelerator firmly and weren't towing anything close to its maximum capacity of 8,400 pounds. The advertised top speed was a practical 65 mph, allowing for highway travel at a reasonably brisk pace. However, with a turning radius of 25 feet, maneuvering the vehicle around town presented some challenges.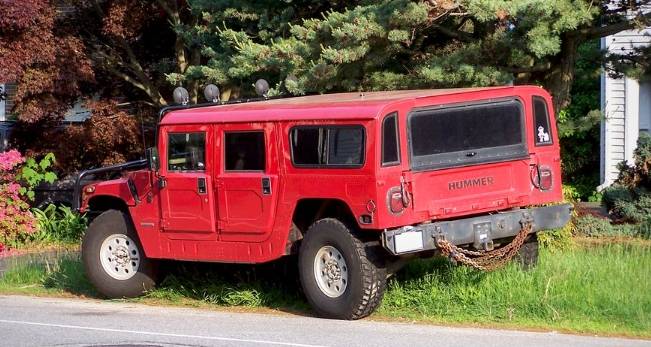 Weighing in at 6,400 pounds, the four-door wagon version of the Hummer had a payload capacity of 3,900 pounds. However, in practical terms, utilizing the full payload capacity would have been challenging due to the limited space available in the rear. The interior of the vehicle was also not particularly spacious. Although the use of aluminum body panels and a fiberglass hood helped reduce its overall weight, the Hummer still remained quite heavy. Even the two-door pickup variant, which weighed 5,800 pounds, was substantial in size.
By now, it's evident that the Hummer's notable features did not revolve around its performance on the road, despite promotional material depicting it in scenarios similar to those of a Ford Ranger: transporting building materials to a construction site or carrying Grandma's rocking chair in the truck bed.
The H1 excelled in off-road environments and performed best at slower speeds. The four-door wagon boasted an impressive 16 inches of ground clearance, enabling it to conquer steep 60% grades and navigate 40% side slopes. With an approach angle of 72 degrees, it could even scale gym walls if required. The H1's versatility was further enhanced by its central tire inflation system, which allowed it to adapt to various terrains. Inside the refined cabin, occupants could enjoy the premium sound system and air conditioning, providing comfort even in rugged surroundings.
Did the H1's capabilities and limitations have any impact on its appeal to its target market? It's safe to assume that factors such as MPG ratings or acceleration didn't play a significant role in swaying buyers' decisions. Their primary motivation was to own a vehicle that exuded a cool and powerful image. And for a considerable period, the H1 successfully fulfilled that desire.
Unlike its successor, the H2, the original Hummer did not provoke the same intense love/hate response or cultural backlash during the early 2000s. It maintained a sense of rarity and aloofness, partly due to its modest sales figures. Its exclusivity was further reinforced by a high price tag of $52,950 in 1992, as well as its lack of road manners suitable for fast food drive-thrus. Additionally, the vehicle's distinctive and attention-grabbing paint colors ensured that it stood out in rearview mirrors.
Even after thirty-one years since its introduction as a consumer model, the Hummer continues to maintain its sense of aloofness, albeit with a slightly diminished rarity due to the availability of used models from government auctions. However, it's important to note that the Hummer doesn't quite fit the mold of other 4×4 vehicles from the same era, and it never will. It possesses a unique character and identity that sets it apart from its counterparts.